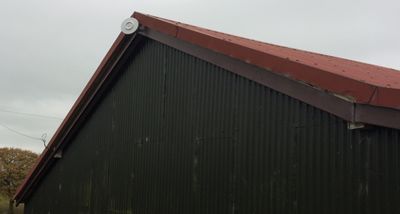 The nerwork starts at the village hall in nearby Gwehelog - two broadband lines are sited in the hall, which in turn enjoys free WiFi for general community use.
Here you can see the radio taking the signal out of the hall and up to a house which is high up and enjoys spectacular views.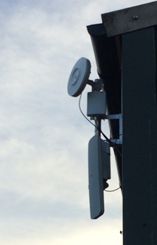 From here the signal is sent to several local houses from a radio with an omnidirectional antenna, and also to a stable block high on the opposite side of the valley. From here there is a good view of the houses directly beneath the original house which are hidden by trees from it.
The Trostrey community is spread over 3 square kilometres of rolling hills, with some properties relying on up to 5 hops from their neighbours to get their service. Customers in Trostrey generally enjoy broadband speeds in excess of 40Mbps.
"My name is John Kershaw, I am one of two local facilitators for a broadband project here.

We started in June 2017 with a meeting of all interested. BBR (Broadband by Radio) explained what they could do, the cost and what we needed to do. All interested paid a returnable deposit.

Over the next 2 weeks BBR surveyed the area and prepared quotations for the installation costs for each house.

Each applicant house completed an application form for a discretionary installation grant and sent the forms off to the Welsh Government.

On receipt of approval we each contacted BBR and agreed an installation date and returned a form to the Welsh Government confirming receipt of their approval.

BBR installed the equipment on the agreed date and tested the system. They then sent each of us an invoice which we sent to the Welsh Government together with a speed test print out. We also completed standing orders for the monthly payments to BBR.

17 out of 18 households who agreed to go ahead were on line by the end of October/first week in November.

No delays were occasioned by BBR, all were caused by either applicants not sending off forms quickly or not receiving replies from the Welsh Government in the expected time frame or both. About 3 households didn't tell BBR that they had received approval by the Welsh Government.

We have an entirely usable service which has had short periods of down time caused by electricity cuts. The speeds have reduced with numbers but a second BT line has been ordered and should be installed before the end of November 2017.

BBR have made themselves available to discuss the project and have dealtspeedily and effectively with the initial teething problems. They have been good to deal with.

This has made a big improvement to most of our lives.

We look forward to a continuing association with BBR."
You don't need to be living in a large community - we can help a group with as little as ten members. We currently provide service to more than 120 customers through our network covering Shirenewton, Earlswood, Itton, Kilgwrrwg and the Usk valley, as well as a dedicated network in the Trostrey area.